iPhone Location Services
Location Services can be turned on for your device, however may be disabled for certain apps based on prior preference. As the HTW Contactless Inspection Tool launches through Safari, you will need to enable Location Services specifically for Safari.
If your Location Services are turned on, but you are still receiving a "User denied Geolocation" error, this is most likely caused Safari not having the correct permissions.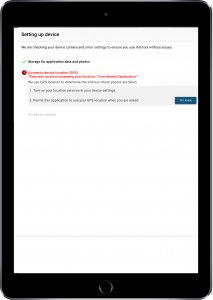 How to enable location services to be used with the HTW Contactless Inspection Tool.
Go to Settings > Privacy > Location Services.
Make sure that Location Services is on.
Scroll down to find the Safari
Tap the app and select an option: While Using the App